Ian and Moreen Nicoll Named 2008 Dressage Canada Owners of the Year
December-12-08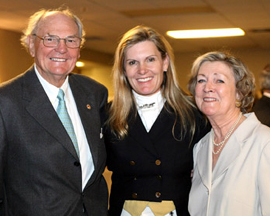 Dressage Canada is pleased to announce that Ian and Moreen Nicoll of Toronto, ON, have been chosen as the 2008 Dressage Canada Owners of the Year.
As Ashley Holzer's parents, the Nicoll family have been involved with horses since Ashley started riding at Sunnybrook Stables in Toronto, ON, at the age of 10. At the age of 13, Ashley received her own horse and began her show career.
"Moreen, Rusty (Holzer) and I very much appreciate this recognition by Dressage Canada and thank Dressage Canada for it," remarked Ian Nicoll. "Horses and their riders are the spotlight of our sport but it is fair to say that these stellar performances would not be possible unless one, two or three enthusiasts decide to become horse owners. This recognition is for them too as well as our friend Evi Pracht, mentor and 'eyes on the ground'."
Ian and Moreen Nicoll were inspired to become owners after reading an article in Horse Sport magazine written by the supporter of Canadian Olympian Cindy Ishoy, the late Dinny Burns Day. Burns Day wrote to encourage people to become dressage owners and see the world. The Nicolls took her advice and their adventure has been very rewarding ever since.
"We didn't own them all but we cared for them all—Orsk, Reipo, Rebell, Kallum, Kronjuvel, Alibi, Apache, Elliot, Jornello, Imperioso, Gambol and Pop Art. They were all happy major competition horses that we have had the great satisfaction to witness develop. They provided us with countless hours of immense pleasure to watch," noted Ian Nicoll.
"I am thrilled that my parents received this honour from Dressage Canada. My parents have been in support of my riding from the first day I asked for riding lessons at Sunnybrook Stables in Toronto. I am also very grateful to Canadian owners who, like my parents, sponsored me—Christilot Boylen, the Ingle family, Charlotte Schickedanz, the Scott family, Diane Somerville, the Pracht family and the Reese family," remarked Holzer. "The award I also received for being in the top ten of the FEI World Dressage Rankings is the result of these very generous people."
"Owners are such an integral part of the sport's success," said Kerri McGregor, the Chair of Dressage Canada. "Although owners are seldom in the spotlight, their dedication, support and enthusiasm directly contributes to an athlete's success in the competition ring."
Ian and Moreen Nicoll were presented with the 2008 Dressage Canada Owner of the Year award at the Dressage Canada "In Celebration of Dressage" reception held November 13th at the Royal Winter Fair in Toronto, ON.
Past winners of the Dressage Canada Owner of the Year Award include Karen Soupcoff (2003), Deryol Andrews (2004), Evi Strasser (2005), Doug Leatherdale (2006) and Faith Berghuis (2007).