Dressage at Devon - Jacqueline & Balmoral Take First in Grand Prix and Second in Grand Prix Freestyle
September-30-09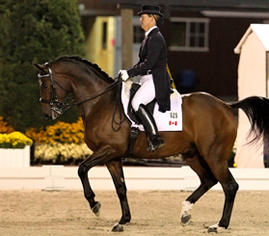 Canadian Olympian Jacqueline Brooks of Cedar Valley, ON, won the Grand Prix and placed second in the Grand Prix Freestyle at the CDI–W/Y/J Dressage at Devon, held September 22–27, 2009, in Devon, PA, USA.

Riding her up-and-coming Grand Prix mount Balmoral (Belcanto x Consul), a 10-year-old Canadian-bred Hanoverian owned by John & Anne Welch and Mary & Eric Brooks, Brooks earned a score of 66.936% in the Grand Prix for Freestyle test. The duo then performed a very strong Freestyle to earn 69.800% for second place.
"Balmoral needs practice at the bigger electric venues like Devon. Both of his tests were at night under the lights, and he was extraordinary," said Brooks of her first Grand Prix win at this prestigious North American CDI-W. "He has really settled in to his piaffe and passage tours, and he is understanding each movement. Balmoral is a really neat horse."
Denielle Gallagher-Legriffon originally from Lakeside, NB, and currently residing in Suffern, NY, and Abrikos, her 18-year-old Russian Warmblood stallion, posted a fourth place finish in the Grand Prix for the Freestyle with 64.979%, and then earned their personal best Grand Prix Freestyle score of 68.400% for sixth place.
"My horse was so great and I am very happy with our performance," said Gallagher-Legriffon, who was the only adult amateur rider competing at Devon in the CDI-W Grand Prix level. "These results are very exciting, and now I feel that we can keep striving to get even better."
The Grand Prix Freestyle also saw Cheryl Meisner of Blandford, NS, and Paganini, John Risley's 12-year-old Dutch Warmblood stallion (Havidoff x Statuar) finish in fourth place with 68.900%. Olympian Evi Strasser of St. Adele, QC, and her young Grand Prix mount, Action Tyme, a nine-year-old Oldenburg gelding (Aktuell x Aleksander), finished in seventh scoring 66.400%.
Canadian riders Sharon Merkel-Beattie, of St. Albert, AB, riding Essence of Glory, Donna Stott's 13-year-old Canadian bred Hanoverian mare; Chris Sanders, of Port Stanley, ON, with Gary Vander Ploeg's 16-year-old Dutch Warmblood gelding, Van Gogh; and Meisner riding Tango, a nine-year-old Dutch Warmblood gelding owned by Meisner and John Risley, also competed in the Grand Prix for Special. Tango and Meisner took fifth place in the Grand Prix Special.
In a competitive field of 39 entries, Tom Dvorak of Hillsburg, ON, and Raconteur (Rockwell x Carte d'Or), an eight-year-old Westphalian gelding owned by Kelly Murray, placed fourth in Prix St. Georges with a score of 66.842%. Meisner, riding Lucky Strike, John Risley's 16-year-old Dutch Warmblood gelding (Ferro x Aktion), finished in eighth place with a score of 65.439%. Leah Wilson of Orangeville, ON, scored 64.912% with Amusant, her 14-year-old Hanoverian gelding sired by Alabaster for 11th place. In 12th place was Dvorak riding Viva's Salieri W, Augustine and Christine Walch's eight-year-old Hanoverian stallion sired by Viva Voltaire, with a score of 64.561%. Canadian Olympian, Gina Smith of Brockville, ON, also competed on Rhythmix, a 10-year-old Oldenburg gelding owned by Diana Weatherall and Jane Haslett.
Dvorak and Viva's Salieri W finished in fifth in the almost equally large Intermediaire I class with a score of 66.579%. Riding Raconteur, Dvorak also finished in 10th place with 65.175%.
The Intermediaire I Freestyle took place on the final day of competition, with sixth place honours going to Wilson and Amusant on a score of 66.950%. Peter Gray riding his horse Collo 5, a 16-year-old Holsteiner gelding sired by Corofino 1, finished in seventh place with a score of 66.700%. Rounding out the Canadian entries was Lee Tubman of Dunnville, ON, aboard Ducat Developments Ltd's eight-year-old Hanoverian mare De La Rosa sired by De Niro. The pair finished in 11th place with a score of 65.050%.
Representing Canada in the junior ranks, Tanya Strasser-Shostak of Ste-Adele, QC, riding her pony Nemo Tyme, finished in third place in the FEI Individual Pony test. Hannah Pryce, a former resident of Mississauga, ON, who currently resides in Wexford, PA, rode in the FEI Young Riders division with Kathryn Fraser's 15-year-old Westphalian gelding, Foster.
For many North American riders, the annual Dressage at Devon competition caps off a busy competition season and is one of the final opportunities to gain valuable FEI rider ranking points. The six-day event attracts more than 700 horses and 35,000 spectators each year.
The international judging panel included Linda Zang (FEI O—USA), Cara Whitham (FEI O—CAN), Anne Gribbons (FEI O—USA), Wim Ernes (FEI O— NED), Jayne Ayers (FEI I—USA), Christoph Hess (FEI I—GER), Bo Jena (FEI I—SWE), Freddy Leyman (FEI I—BEL), Jeanne McDonald (FEI I—USA), Anne Prain (FEI I—FRA), Isobel Wessels (FEI I—GBR) and Christof Umbach (FEI C—LUX).
Additional Press Coverage